Get voyage context in your communications for more streamlined workflows
SEDNA is an Intelligent Communications System that serves as the primary digital workspace for teams working on complex projects. Personal inboxes make it difficult for teams to work together efficiently and productively, lead to missed messages, and create high volumes of email that lead to performance bottlenecks. All relevant communications, conversations, documents and associated actions are visible to the whole team within SEDNA, directly addressing the problem of over-reliance on traditional email systems.

The Veson IMOS Platform (VIP) integrates with SEDNA to automate organizing emails by fixture and time charter contracts and presenting a curated set of emails to assigned users. Mutual clients of SEDNA and Veson leverage this automated organizational structure to save time, reduce mistakes, and promote efficiency.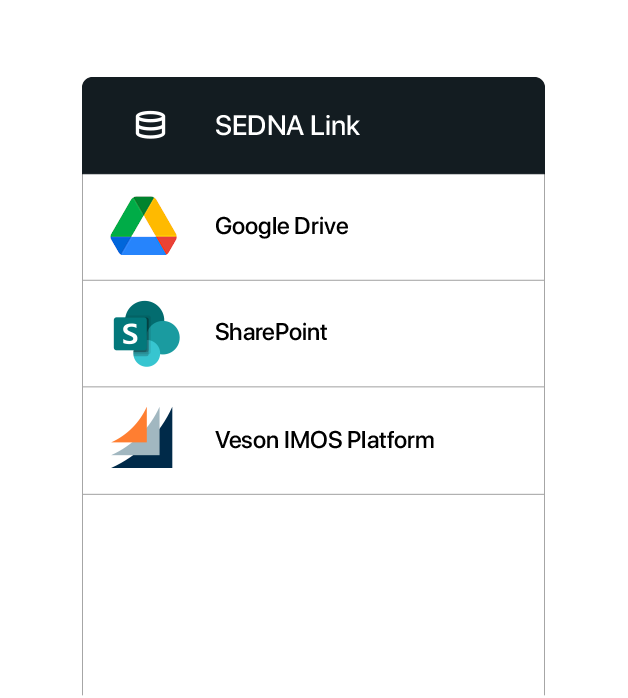 A centralized place
for shared work and communication
With the SEDNA + VIP integration, SEDNA pulls in data related to new voyages in real time from VIP and makes them available to the right teams in SEDNA.
SEDNA's digital workplace ensures a single source of truth for vessel management and communications.
This integration makes it easier for users to associate their voyage data in VIP with messages, documents, and conversations in SEDNA. Surfacing only the communications relevant to their respective voyages allows users to reduce their inbox volume by up to 95% and save valuable time.
Faster workflows and built-in collaboration
SEDNA creates a shared workspace and single source of truth for the whole organization. Emails and internal notes can be drafted, sent, and shared across teams all in one place, without compromising security. And any context around projects, conversations, decisions, and actions taken is instantly discoverable to relevant parties.
SEDNA's team email features simplify internal communication. An operator can engage claims or accounting on an issue with a voyage just by tagging the message or writing a comment. No forwarding or reply-all is needed.